Hands down my favorite project of this year was our powder room makeover. It was so old and outdated that it would have been hard to not to improve on the look of this room.
Fortunately, it came out MUCH better and I am thrilled with it.
Except for the long hunt for a decent light fixture, working on this room was just so much fun. That may have something to do with the small size of the room, gratification was almost instant with all the small steps.
I painted the room an amzzing green color I wanted to use in the dining room but I didn't have the guts to step out of my comfort zone in such a large room. Now I wish I would have painted both rooms with this fresh shade of green.
The biggest change was removing the 1970's wall tile and replacing it with timeless and classic beadboard. Now I want to use beadboard on the kitchen island makeover that I am planning for next year.
No one loves a bargain more than I do so it should be no big surprise that I was thrilled with the deal I got on the fabric for the window valance in this room. How does $2 a yard sound? It sounded great to me so I bought the last 8 yards they had. Originally I had planned on using this fabric only in the dining room but I decided to coordinate the two rooms by using the same fabric in each room. (The dining room panels will have to wait until the new year.)
You can see why I am thrilled with this makeover.
If you want to see how the room evolved check out these posts:
Installing the beadboard
,
Getting a Handle on Your Toilet
,
The Hunt For Lighting,
Demo Surprises,
The Finished Powder Room,
The Reveal.
I will be sharing over at
Home Stories A to Z - My Favorite Project of 2011
Southern Hospitality - Top Projects of 2011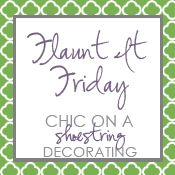 Thanks for reading,